If you live in upstate New York then you know how accurate the weather forecast can be–in a matter of minutes we can go from sunshine to thunderstorms and back again. On this Saturday, I had my fingers crossed that the weather channel would prove to be wrong, and that maybe the 100% chance of rain would actually turn out to be zero. On this particular day the weather was looking pretty grim. Dark clouds were overhead and rain was on the horizon.
It was on this day that I was heading out to photograph the wedding of Diane & Greg. You might remember them from their beautiful Syracuse area fall engagement session. Since their engagement shoot (really since I met them for the first time), I've been waiting for this day to arrive! I always get so excited to photograph weddings when my couples share with me their own excitement and it was no exception with these two.
The day started out with an early ceremony at Holy Family Church in Syracuse that was incredibly touching. I witnessed so many special and important moments between Greg and Diane as I documented the ceremony. And, since the ceremony was early in the morning, we got really lucky with the weather. Not only were we able to get all of the family photos done outside, we made it down to Franklin Square as well for some amazing portraits.
Although the rain didn't permanently hold-off, Diane and Greg had luckily chosen a beautiful downtown location that was indoors to continue the shoot. So, when the rain threatened to soak us all, we made our way over to Al's Wine and Whiskey Lounge in the historic Armory Square. It was so fun to shoot here– interesting lights, cool furniture, and meaningful to the couple. It was here that Diane and Greg met! I loved that we were able to incorporate such an important place for these two into their wedding photos.
After all those portraits, we headed over to Bellevue Country Club for a spectacular party. Enchanting dances, touching toasts, and lots and lots of crazy dancing made for a wonderful evening. I feel honored that I got to spend the day with Diane, Greg, and all of their family and friends and that they trusted me to document these memories for them.
Diane and Greg, I wish you many more years of happiness and love, and lots of adventures out to the blueberry fields! Enjoy the photos!
~Caly
There were so many touching and adorable moments throughout Greg and Diane's ceremony at Holy Family Church in Syracuse, NY, that I had a hard time picking only a few for the blog!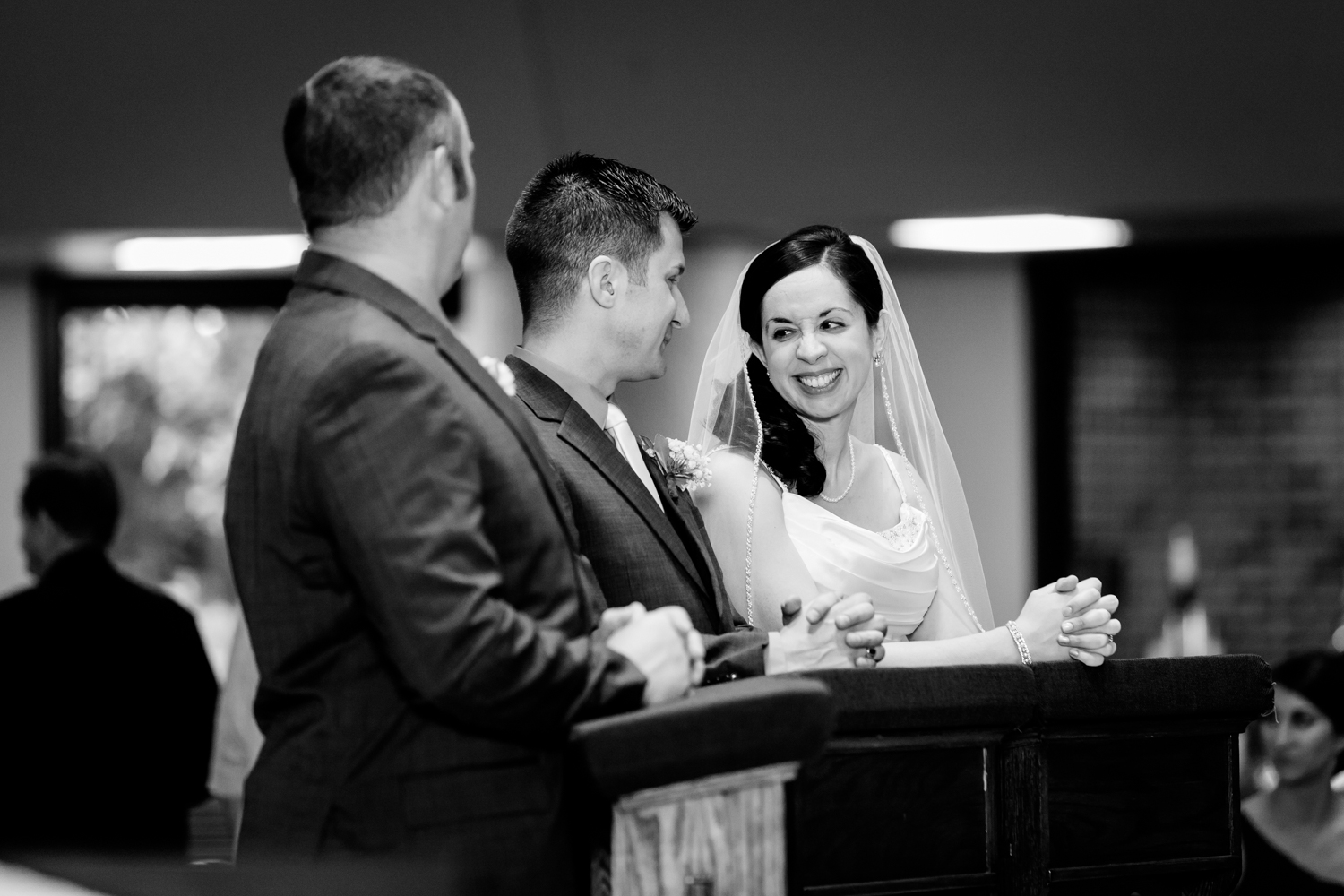 After their beautiful ceremony, we had tons of time for portraits so we wandered down to Franklin Square just before the rain hit.
Once the rain became too much, we headed to our second portrait location, Al's Wine and Whiskey Lounge located in the historic Armory Square in Syracuse, NY. It was an extra special location for these two since that's where they met!
After all of those portraits, it was time to head over to Bellevue Country Club in Syracuse, NY to party!
I had to grab these two for a few more portraits at the venue, and we made use of the rainy weather!
Vendors
Photography – Calypso Rae Photography
Church – Holy Family Church
Venue – Bellevue Country Club
Caterer – Bellevue Country Club
DJ – DJ Peter Naughton
Hair & Makeup – Posh Hair Studio
Dress – Rebecca's Bridal Boutique – Designer – Davinci
Suits – Men's Wearhouse – Tommy Hilfiger
Rings – Jewelry on James
Flowers – The Floral Gardens
Cake & Desserts – Sweet Indulgence